Daniel Becker
Librarian for Humanities & Business
Tel: (508) 286 5601
= Restricted resource

= Some full text

= OpenURL enabled


= Images

= Video files

= Audio files

This research guide presents some core resources in
German Studies
.
Additional resources are available on the following guides:
Please send questions and suggestions about this guide to
Daniel Becker
.
Handbooks and Encyclopedias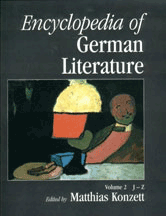 Encyclopedia of German Literature
Comprehensive, two-volume reference work in English. Covers both historical and canonical works and periods as well as the post-World War II era until the end of the twentieth century. 2000.
Encyclopedia of the Third Reich

Comprehensive, two-volume encyclopedia providing entries on political, social, and cultural aspects of Nazi Germany as well as on individual personalities. Call Number: ​Ref. DD256.5 .G76313 1991.
Feminist Encyclopedia of German Literature
Thorough treatment of German literature by (mostly) women authors.
Call Number: Ref. PT41 .F46 1997
.
Handwörterbuch des politischen Systems der Bundesrepublik Deutschland
Online version of the standard handbook on German politics and the German constitution. Based on the 7th edition (2013). In German.
Modern Germany: An Encyclopedia of History, People, and Culture, 1871-1990
Two-volume encyclopedia covering German history, society, and culture between the country's first and second unifications. Some of the entries are relatively short, while others provide overviews of substantial length.
Call Number: ​Ref. DD14 .M64 1998
.
German Dictionaries
Collins German Dictionary
Comprehensive German-English dictionary with more than 100,000 entries.
Oxford-Duden German Dictionary
With 300,000+ entries and 500,000+ translations, Oxford-Duden is one of the most comprehensive and well-regarded German-English dictionaries available.
Call Number: ​Ref. PF3640 .O94 2005.
Deutsches Wörterbuch von Jacob Grimm und Wilhelm Grimm
Online version of the largest dictionary of the German language.
Foreign Language Business Dictionaries
From Peter Collin Publishing, these dictionaries provide specialized business vocabulary in French, German, and Spanish.
Websites and Online Exhibitions
Bundeszentrale für politische Bildung

Website of the German Federal Agency for Civic Education, which provides extensive learning resources on German (and European) politics, history, society, and culture. Its multimedia dossiers are particularly noteworthy, as is its series of short studies Informationen zur politischen Bildung. In German.
Tatsachen über Deutschland

Information about contemporary Germany in several languages, presented in a hybrid website/encyclopedia format. Jointly curated by the Frankfurter Societäts-Medien GmbH, a publishing house, and the German Foreign Office.
LEMO: Lebendiges Museum Online

Extensive website offering an online "museum" of German history, developed by the German Bundesarchiv (Federal Archives), the German Historical Museum, and the House of the History of the Federal Republic of Germany. Includes expository essays, images, eyewitness statements, audiovisual material, and primary sources.