This subject guide for library resources for Business & Management is still under construction. In the interim, please
contact Daniel Becker,
your librarian for business & management, for help.
Daniel Becker
Librarian for Humanities & Business
Tel: (508) 286 5601
= Restricted resource

= Some full text

= OpenURL enabled


= Images

= Video files

= Audio files

These databases provide access to scholarly and trade publications in business, management, marketing, and related fields, as well as company information and industry profiles.
Business Collection [Gale]
Indexes and abstracts articles on business and management topics; many articles are in full text. 1980 - present.
Business Insights: Essentials [Gale]
Provides company and industry profiles, financial reports, and statistics, as well as research articles on major industries.
Business Economics and Theory Collection [Gale]
Indexes articles on business and economics topics, with some overlap with
EconLit
.
LexisNexis Academic
Indexes and abstracts U.S. and foreign newspapers, journals, transcripts, federal and state case law, law reviews, state and country profiles, company information and more. Many documents are in full text; dates of coverage vary.
Small Business Collection [Gale]
Contains articles from scholarly journal and trade magazines, with a focus on business strategy and entrepreneurship.
Social Science Research Network (SSRN)
Joint portal of semi-formal networks of researchers in the social sciences that provides access to a variety of e-journals as well as abstracts and full text of preprints and working papers via its
eLibrary
. Topics range from accounting to marketing, leadership to sustainability, and corporate governance to information systems.
Statista
Extensive database of statistics on (almost) any topic imaginable, drawn from thousands of sources. Also contains information about industries and individual companies and organizations.
The following databases cover materials not only in business and management, but also in related fields, particularly economics and other social sciences.
EconLit [ProQuest]
Indexes and abstracts journal articles, books, book reviews, working papers, and dissertations in economics. 1969 - present.
Note: EconLit uses the JEL classification, which can be found under "thesaurus" in this ProQuest version of the database.
PsycINFO
Indexes and abstracts the professional and academic literature in psychology and related disciplines. American Psychological Association and Canadian Psychological Association journals are in full text; one of the Ovid databases; 1806 - present. A
helpful guide to searching PsycINFO on the Ovid platform
(PDF) is available on the American Psychological Association website.
Note:
To use PsycINFO with RefWorks, please
login here
instead of the link above.
Scopus
Indexes and abstracts scientific, technical, medical, social sciences and some humanities literature and web resources. Includes citation tracking and links to full text articles. Early 1900's - present for some abstracts; 1996 - present for citation tracking.
Social Sciences Full Text [H.W. Wilson / EBSCO]
Indexes articles and book reviews in some of the key international English language journals in the social sciences, for example: anthropology, area studies, economics, political science, psychology, sociology; includes over 320 full text journals; 1984 - present.
Social Science Open Access Repository (SSOAR)
Database of open-access social science articles and papers.
Sociological Abstracts
Indexes journals, dissertations, conference papers, and selected books in sociology and related disciplines. A ProQuest database; 1952 - present.
Important Business Journals
Ranking the quality and influence of scholarly periodicals can be a tricky business, and the titles listed vary from one organization to the next. Still, here is a list of journals that most rankings agree are important in the fields of business, management, and finance. Click on the links to see how to access them at Wheaton.
Academic of Management Perspectives
Accounting Review
California Management Review
Entrepreneurship Theory and Practice
Harvard Business Review
Journal of Accounting Research
Journal of Business Research
Journal of Business Venturing
Journal of Consumer Research
Journal of Finance
Journal of International Business Studies
Journal of Management
Journal of Management Studies
Journal of Marketing
Journal of Marketing Research
Journal of Operations Management
Journal of Organizational Behavior
Management Science
Organization Science
Strategic Management Journal
Also check out the following magazines and newspapers:
Bloomberg Businessweek
Consumer Reports
The Economist
Fast Company
Financial Times
Forbes
Fortune
Inc.
MIT Technology Review
Wired
Reference Books and eBooks
For a quick initial overview of a topic, try consulting one of these encyclopedias and dictionaries.
General Overviews of Business, Management, and Finance
Capstone Encyclopedia of Business
Comprehensive encyclopedia covering business concepts, theories and theorists, organizations and companies, etc. 2003.
Encyclopedia of Business and Finance
Comprehensive reference work that covers finance and banking; accounting; marketing; management; and information systems. 2006.
Encyclopedia of the History of American Management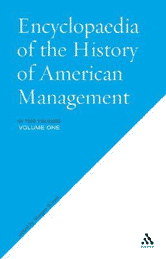 Contains brief biographies and more extensive summaries of the works and ideas of major American management theorists and practitioners. Also includes short bibliographies relating to each entry. 2005.
Special Topics
American Economy: A Historical Encyclopedia
Comprehensive encyclopedia covering U.S. economic history.
A to Z of Corporate Social Responsibility
Comprehensive reference works that covers central concepts of CSR, international standards, codes, and guidelines, as well as specialized topics. 2010.
Globalization: Encyclopedia of Trade, Labor, and Politics
Comprehensive encyclopedia of political, economic, envrionmental, and social aspects of globalization.
Handbook of Contemporary Behavioral Economics
"The focus of this handbook is original papers by behavioral economists...providing in the process an insightful description and analysis of a particular and important aspect of behavioral economics. These are supplemented by a number of more conventional albeit critical surveys of the literature. Each contribution also provides extensive references."
International Encyclopedia of Economic Sociology
The encyclopedia "gives comprehensive and accessible coverage of the wide range of areas and subjects covered by the field," including consumption, corruption, democracy and economy, ecology, gender and economy, globalization,and industrial relations. Contains bibliographies and index.
Call Number: Ref. HM35 .I565 2006.
Research Methods
Encyclopedia of Research Design
The Encyclopedia of Research Design, edited by Neil J. Salkind, is a collection of entries written by scholars in the field of research design, the discipline of how to plan and conduct empirical research, including the use of both quantitative and qualitative methods.
Dictionaries of Business Terminology
Foreign Language Business Dictionaries
From Peter Collin Publishing, these dictionaries provide specialized business vocabulary in French, German, and Spanish.
AMA Dictionary of Business and Management
Surveys "a vast range of terminology from all areas of business including management, strategy, finance, human resources, economics, marketing, sales, insurance, and international business." Published by the American Management Association. 2013.
Barron's Business Dictionaries
Quick reference works with brief definitions of key business terms and concepts. The following are available as e-books at Wheaton:
Information about companies, their financial reports (at least in the case of public companies), their products and services, as well as their executives and board members, can often be found easily on individual companies' websites. Most have a special section on investor relations that contains much of this information.
Other sources of company information include
LexisNexis Academic
,
Statista
, as well as
Business Insights: Essentials [Gale]
and
Business Collection [Gale]
(all of which are subscription databases and are accessible to Wheaton community members only). Freely accessible resources include
Bloomberg Business Exchange
and the
EDGAR
(Electronic Data Gathering, Analysis, and Retrieval) system of the U.S. Securities and Exchange Commission (SEC).